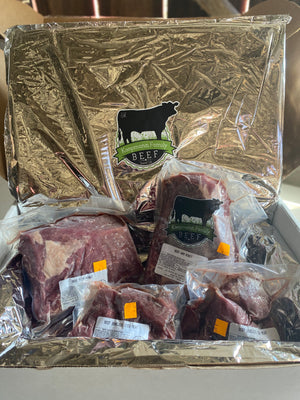 Our Grain Fed Slow Cook Box is a smart collection of dry-aged cuts.  We've included
2 Grain Fed Stew Meat cut into 1" cubes,
1 Grain Fed Chuck Roast
2 osso bucco 
5 lbs of Ground Beef 
Our Grain Fed Slow Cook Box is a perfect variety of cuts for your favorite slow cooked recipes for a tender, full flavored and healthy main dish. 
So happy with my purchase
The service was excellent and the meat is so yummy 😋 I love that I am supporting a local farm and it's family!!!
Excellent Beef!
I can't thank you enough for producing such an excellent product! Every single cut that we've used so far is nothing less than outstanding. Sooooo tender and tasty! We feel very fortunate to have found you (Thank you Nicole Pilkington) and fully intend to remain loyal customers. Such a treat to actually receive a product that is every bit as good as advertised.