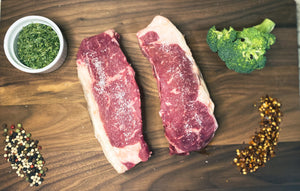 Impressive looking 1 1/2 in cut, yet easy to cook, our Grain Finished New York Steak is a boneless, juicy and flavorful cut, great for everyday dinners.  Season simply with salt and pepper or your favorite rub and grill.
1 steak per package 
Best beef ever
The steaks we purchased from Koopman Family Farm keep us coming back for more! It is truly outstanding. We also are invested in supporting this family business and will continue to do so.
Happy wife
It's my wife's favorite cut. Best she's ever had.