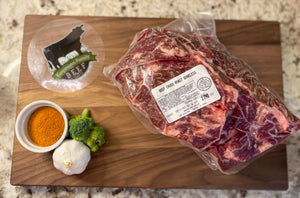 Our popular Grain Fed Chuck Roast comes mainly from the shoulder section and is one of the leaner cuts of meat.   An ideal slow cooked cut of meat, our Grass Fed Chuck Roast is a savory, delicate and flavorful meat.  It's a classic, comfort choice in cool or warm weather and ideal for crock pot recipes.  As an added bonus, slow cooked chuck roast will be tender enough to slice with a fork. 
Each roast is between 4 +lbs
I've had many Chuck roast from local stores this by far is the best I've had. Mind you I live in New Jersey and the beef came from California. At delivery it was still frozen no problem at all. In fact I just ordered another box. Well done
The Best Chuck Roast Ever!
I love to slow roast beef. This chuck roast is so versatile. Also just a little whole garlic salt and pepper is all you need for seasoning. I then use the meat for bbq beef sandwiches. It really is just so good straight out of the crock pot as well.
Top flavor, tender
Very tasty and tender bone-in chuck roast. Very clean flavor. Had a thick band of fat along a seam, which is not unusual for such well-marbled high-grade beef. Price was lower than I expected. Will definitely buy again!
Delicious Smoked Chuck Roast
I smoked the seasoned Koopman Family Beef Chuck roast at 275 degrees for two hours over an indirect olive wood fire. The roast was then transferred to a cast-iron Dutch oven with a stick of grass-fed butter and 3 oz. of pickle juice. The Dutch oven was then placed back in the smoker for another 2 hours. Juicy, tender and melt in your mouth delicious!
Boeuf Bourguignon-Julia's Modern Version
Attempted to make a modern, slow cooker version of Julia Child's famous Boeuf (Beef) Bourguignon. Used 5 lbs of Koopman's Chuck Roast-Grain Finished. Trimmed the meat of excess fat (especially the "hard" fat) and silver skin. Cubed meat into 1-1/2 to 2 inch pieces and seared the meat in batches. Added the onions, carrots, garlic, tomato paste, Pinot Noir and appropriate seasonings pearl onions and Cremini mushrooms. Cooked 4 hours on high and then for 4 hours on low. Served with butter noodles and a good Pinot. The meat was tasty, moist and very tender. Probably the best beef stew (Boeuf Bourguignon) I have every made. DELICIOUS!!! Thank you Koopman's