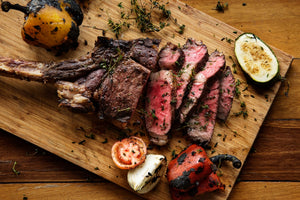 Rain, snow or sunshine, everyday can be a BBQ day. That's why we selected the perfect collection of dry-aged BBQ favorites including:
2 Boneless Rib Eye Steaks

2 New York

 Steaks
5 lbs Ground Beef
Love and loved beef
So glad we have the option to order local beef and it did not disappoint. Would highly recommend so clear out some space in your freezer!
Dang good meat!
I recommend Koopman Beef to everyone! There's nothing better than local free range beef! Can't beat the quality and price.
Well marbled and tasty.
Even the ground beef is excellent; tastes like a ground up steak rather than the nondescript flavor of supermarket ground beef. Steaks, of course, are wonderful.
Delicious and beautiful cuts!
Delicious!
Steaks are tasty and tender!