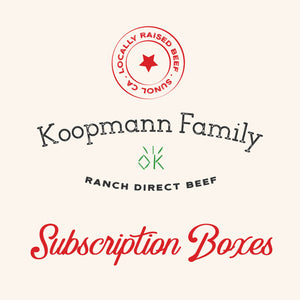 Surprise Box

5 lbs of ground beef
2-4 cuts of Koopman Beef -  We will select and surprise you with different cuts monthly!
_____
Boxes will ship the second Monday of every month.
Shipping cost for each box is a flat rate of $25 
Cancel subscription at anytime, to cancel please send an email 2 weeks prior to your next delivery month. 

Invoices will be sent the Friday prior to shipping. 
Fantastic
The taste is incredible.I'm spreading the word to my clients! Love supporting local Bay Area family business.
We love this subscription box. It's been a great way to try lots of different cuts of meats. The quality of everything we've ever had has always been amazing!
Looking forward to the next best piece of beef!
I enjoy trying new recipes so it's been great to pull out a piece of beef, and try something new! On nights when I need to make quick burgers or burritos the ground beef is so incredibly lean it makes even a simple dinner taste great!